Monthly Archives:
June 2014
Now here is a example of how Lego bricks can be used in public. In London there is a new bus stop on Regent Street made of 100000 bricks. Now that would be my personal favorite bus stop if I lived there.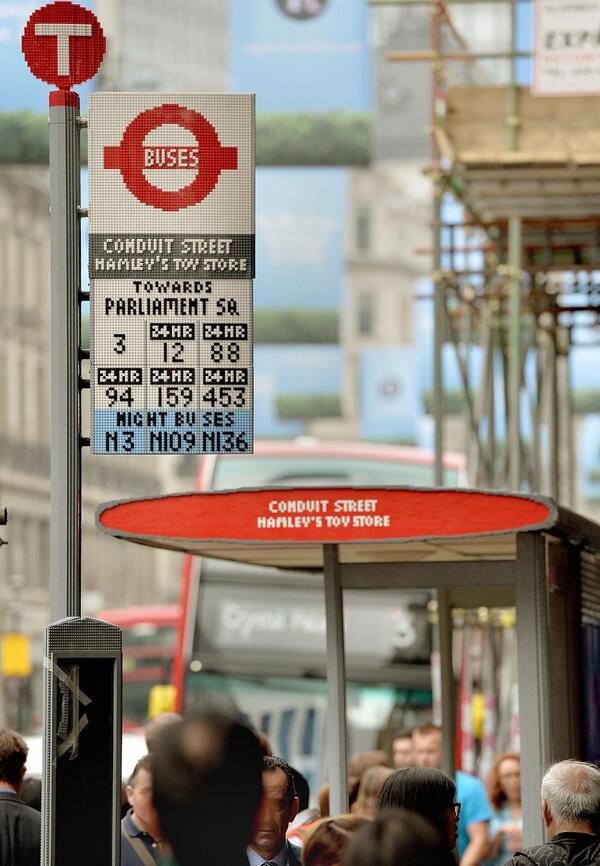 Now, who doesn't remember the infamous spoof of Star Wars from the 80s? Yes, I am talking about *drums* SPACEBALLS!
This is one of my all-time favorite movies and even my absolute favorite Mel Brooks Movie. To be honest, when I was a kid, I probably saw this movie even before even seeing Star Wars. And ever since, I love it. Though, I didn't get many of the jokes and references to the original back then, I had a lot of fun. And discovering everything later, I had a really good time. Watching a totally different movie later and realizing that things were put into Spaceballs as a pun was really revealing and fun. Oh, I saw that on Spaceballs and that, too, like the "Alien" and "Planet of the Apes" references and many more.
Flickr user ChrisR18t now has built the iconic "Eagle 5" space-camper in mini-land scale. And what can I say … it's brilliant. He rendered this camper with wings in Lego brilliantly. It is easily recognizible and has all the details that you can imagine. He even included the transformable Hyperjets. And if that wouldn't be enough, he created the main characters in mini-land scale as well. They are all there: Captain Lone Starr, Princess Vespa, Dot Matrix, Barf and even Dark Helmet, so you have a complete playset.
Now I hope, someone builds a Megamaid. Hopefully not to scale, because that would be ridiculous.
That's it for now. More pictures are available on flickr. Now engage ludicrous speed and may the Schwartz be with you.
When I first saw this picture, I thought it was simply a nice render of an Imperial Star Destroyer. But going through the other pictures quickly revealed a brilliant MOC. This creation is approximately 2 metres long, weighs about 50kg and was made by flickr user Jerac.
Remarkably, he built this with a SNOT technique instead of creating a shell out of plates like in the official Lego model 10030 or its derivates. That not only creates a studfree surface, but also gives it a very clean and smooth look that makes you look twice before you identfy it as Lego. The interior is built with a construction of Technic bricks that creates a very clever skeleton to hold everything together. And as if all this isn't enough, some lighting has been applied to several areas.
On his flickr stream you can find a lot of interesting WiP pictures and some details about the design process of this monster. Be sure to check it out. This UCS ISD is worth more than just a look or two. Behold the awesomeness and also check out Jerac's other great MOCs.